ADVERTISEMENT
ADVERTISEMENT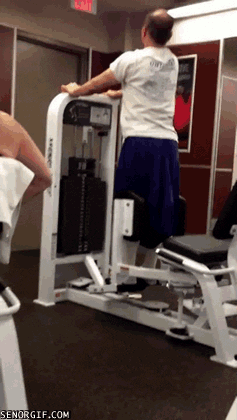 2. We may not be able to see your face, but those heels make me CRINGE.
More from Fitbie: The 10 Biggest Yoga Fails
3. Two words: Stationary. Bike.
More from Fitbie: 20 (Unspoken) Rules of Indoor Cycling
4. In Planet Fitness terminology: "LUNK ALERT!"
5. Step one: Sit in the SEAT. Step two: Look at machine guidelines.
6. Ouch.
7. Jen Selter does have a famous booty now (and 2 million+ Instagram followers to prove it!). But if I were to see her doing this at the gym, I'd probably roll my eyes.
More from Fitbie: 8 Exercises for a Firm Butt and Thighs
8. OK, so this one's pretty sweet. But I'm admittedly concerned. Should this man have a spot or something?
Sure, it's easy to laugh at these peoples' expense. However, it is super important that you have the right technique when hitting the gym. Take a looksee Fitbie's exercise finder for step-by-step instructions on how to do dozens of moves and workouts the RIGHT way.